Baked Ham with Boysenberry Glaze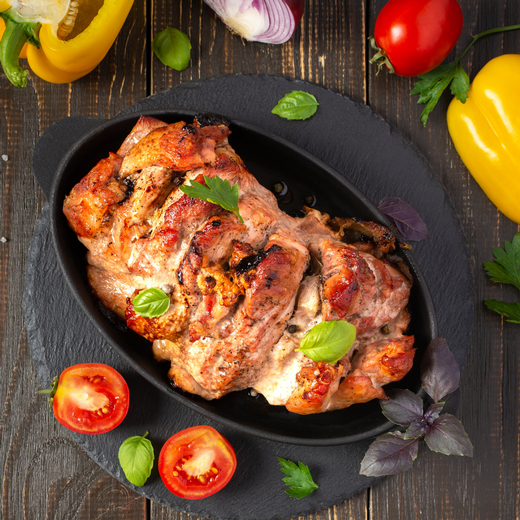 Recipe Date:
November 11, 2021
Measurements:
Imperial (US)
Most families enjoy ham for at least one of their holiday traditions. The sweetness of the berries and savory characteristics of the herbs and shallots create the perfect glaze for your holiday ham. This easy yet delicious glaze can be changed from year to year by changing the jam or the herbs, or you can even add a little chipotle to give it a kick. We recommend you enjoy it with all of your holiday side dishes and a bottle of Mediterranean Vineyards 2018 Merlot.
Ingredients
6 lbs Ham
8 Whole Cloves
2 tbsps Butter
2 Shallots- diced
1/2 cup Boysenberry Jam
1 Fresh Orange-juiced and zest
1/4 cup Brown sugar
1/2 tsp Ground sage
1/8 tsp Cayenne pepper
Directions
Preheat oven to 325˚F. Place ham in a roasting pan. Using a paring knife, score the surface of the ham about 1/3 inch deep; usually this is done in a diamond pattern of intersecting cuts.
This will allow the glaze to get through the thicker skin to fully flavor the ham. Insert the whole cloves all around the ham, distributing them evenly across the surface.
To make the glaze, melt the butter and sauté the shallots until soft and translucent in a medium saucepan. Add the jam, orange juice and zest, and cook to a low boil. Add the rest of the ingredients and cook until well blended, stirring constantly.
Pour half of the glaze over the ham and cover the roasting pan with a lid or foil. Cook for 1 to 1.5 hours, or until internal heat reaches at least 145˚F, then turn off oven. To avoid drying out, baste the ham with some of the remaining glaze about every 30 minutes while cooking. After the ham has reached 145˚F, pour the rest of the glaze over the top of the ham and put it back in the oven, uncovered, to caramelize the glaze. Let the ham rest for 5 to 10 minutes then slice and drizzle drippings over the top for serving.
Keep In Touch
Sign Up For Our Newsletter
Be the first to know about the latest wine releases, events, and promotions.