Cherry Zinfandel Barbecue Sauce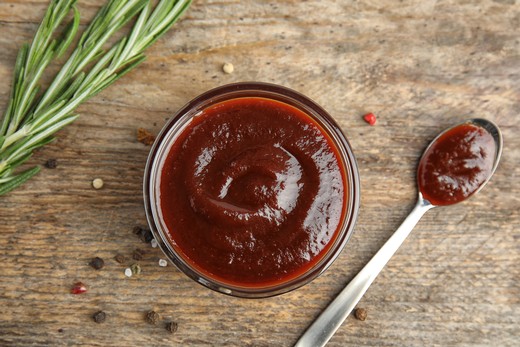 Recipe Date:
August 18, 2022
Measurements:
Imperial (US)
Make a big batch of this delicious sauce and freeze it! We love cooking with wine. Making your own barbecue sauce is worth the effort when you have a delicious recipe like this. This sauce takes barbecue from every day to gourmet instantly. The slight sweetness of the sauce pairs perfectly with the subtle sweetness of our Amarone Zinfandel.
Ingredients
1 tbsp Olive oil
1 Medium onion chopped
1 1/2 cups Mediterranean Vineyards Amarone Zinfandel
1 cup Ketchup
1 cup Dried tart cherries
3 tbsps Apple cider vinegar
3 tbsps Worcestershire sauce
1 tbsp Lightly packed light brown sugar
2 tbsps Dijon mustard
1 tbsp Fresh ginger chopped
1 tsp Fresh black pepper
1/2 tsp Anise seeds
1/4 tsp Cayenne pepper
3 tbsps Lemon juice
Directions
Heat olive oil in a medium saucepan over medium-high heat. Add onion and garlic and cook, stirring often, until translucent, about 4 minutes. Add wine, ketchup, cherries, vinegar, Worcestershire, brown sugar, mustard, ginger, black pepper, anise seeds, and cayenne. Bring to a boil, then turn down heat and simmer, stirring occasionally, until liquid begins to thicken slightly. This will take 15 to 20 minutes. Let sauce cool slightly.
Pour mixture into a blender or food processor and add about half of the lemon juice. Process until very smooth. Taste and add more lemon juice or more brown sugar if desired, then process again. Use immediately warm or at room temperature with grilled meats and paired with Mediterranean Vineyards Amarone Zinfandel. Refrigerate or freeze for later use. Can be stored in the refrigerator for about a week.
Keep In Touch
Sign Up For Our Newsletter
Be the first to know about the latest wine releases, events, and promotions.