Chicken, Brie, and Fig Jam Panini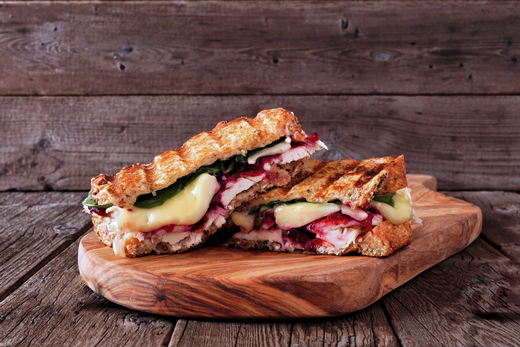 Recipe Date:
August 18, 2022
Measurements:
Imperial (US)
This delicious panini can be a nice easy dinner or a hearty lunch. Depending on your mood, or the weather, serve it with a salad, bowl of soup or some kettle chips.
Ingredients
2 tbsps Olive oil
2 tbsps Butter (room temperature)
8 Sourdough slices
2 Chicken breasts (butterflied)
1/2 cup Flour
3/4 lb Brie (sliced into 1/4 inch strips)
4 tbsps Fig jam
1 cup Arugula
Reduced balsamic vinegar
Directions
Pound out each piece of chicken with a meat mallet. Sprinkle salt and pepper on both sides of the chicken and dredge it in the flour. In a large cast-iron or stainless-steel skillet, heat oil over medium-high heat. Add the chicken pieces and cook undisturbed until golden. Flip and cook for an additional 3 minutes until the chicken reaches an internal temperature of 165 ˚F. Set aside.
Butter one side of each piece of bread.
Heat your panini machine so it is ready to use (alternatively, heat a cast iron skillet on low heat). Add a piece of bread, butter side down, and layer with 1 tablespoon of jam, slices of brie, and one piece of chicken. It is important to cover the whole piece of bread with the jam and cheese. Top with another slice of bread, butter side up. Close the lid to the panini machine and cook until the cheese is melted, and bread is golden. If using a skillet, flip sandwich when bread on bottom is toasted golden brown, and cook the other side until bread is golden and cheese is melted.
Remove from the panini machine and open the sandwich up. Place arugula on one side of the sandwich and drizzle lightly with reduced balsamic vinegar. Close the panini back up and cut in half.
Continue with remaining ingredients until you have four sandwiches.
Serve with your favorite side dish and a glass of Mediterranean Vineyards Zinfandel.
Keep In Touch
Sign Up For Our Newsletter
Be the first to know about the latest wine releases, events, and promotions.