Creamy Artichoke Soup with Lemon and Sage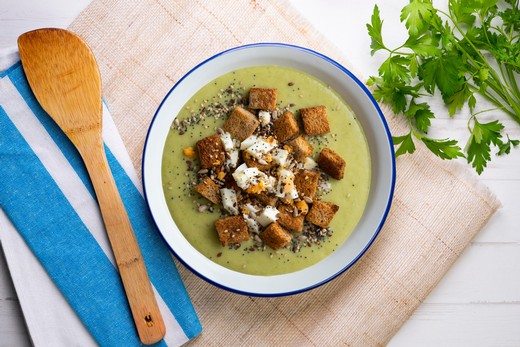 Recipe Date:
February 14, 2023
Measurements:
Imperial (US)
There is nothing better than a hot creamy soup on a cold winter day. This soup will delight your taste buds and satisfy your hunger. Pair with a nice crusted French baguette and a glass of Mediterranean Vineyards Vermentino.
Ingredients
1/4 cup butter
1/4 cup shallots, minced
1 stock celery, diced
1/4 cup flour
6 cups chicken or vegetable stock
1 tsp dried sage
3 14-ounce cans quartered artichoke hearts, drained
1 cup heavy cream
1/4 cup fresh squeezed lemon juice
Salt and pepper to taste
Lemon slices and grated parmesan for garnish
Directions
Slice off the bottoms of the artichoke hearts and set them aside. Use your fingers to separate the artichoke petals (just fluff them up so that they do not stick together), set aside.
In a large stock pot, melt the butter over medium heat. Add the shallots and celery and sauté until the shallots are translucent. Add the garlic and cook until it is a light golden color. Stir in the flour until all the veggies are coated, stirring frequently.
Add the broth, artichoke bottoms (not the petals) and sage, stir to combine. Continue cooking until the broth reaches a simmer, then reduce heat to medium-low to maintain the simmer. Simmer for about 20 minutes.
Remove from heat and use an immersion blender or traditional blender to puree until the soup is completely smooth. Add artichoke petals, lemon juice, and cream. Stir to combine. Add salt and pepper to taste. Ladle soup into warm bowls, top with a lemon slice and sprinkling of parmesan cheese. Serve with Mediterranean Vineyards Vermentino.
Keep In Touch
Sign Up For Our Newsletter
Be the first to know about the latest wine releases, events, and promotions.