Creamy Barley Prosciutto Soup | Sips and Soups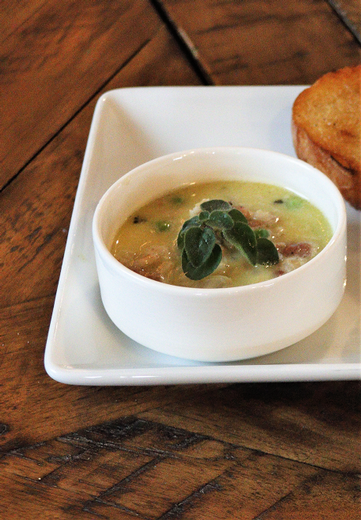 Recipe Date:
January 14, 2022
Measurements:
Imperial (US)
Creamed barley-prosciutto soup is broth based but has plenty of texture and a smooth richness. There is just the right amount of heavy cream and parmesan cheese that gives this soup a nice thickness that coats your mouth. The prosciutto, peas and barley add the right amount of texture for you to be completely satisfied. Snuggle up by the fire and enjoy with a loaf of warm bread and a bottle of Mediterranean Vineyards 2018 Cabernet Sauvignon.
Ingredients
1/4 cup butter
1/4 cup shallots
1 cup barley
1/4 cup dry white wine (we used Mediterranean Vineyards 2019 Chardonnay)
6 cups chicken stock
1/4 tsp black pepper
1/8 tsp white pepper
1/2 tsp dried sage
1/4 tsp nutmeg
1/4 lb prosciutto, cut into thin strips
1 cup heavy cream
10 ozs frozen peas, thawed
1 cup grated parmesan
Directions
Melt butter in a 5- to 6-quart pan over medium heat. Add shallots; cook, stirring, until soft. Add barley; stir until it turns light golden. Stir in wine and cook until almost absorbed completely. Stir in broth, prosciutto, and pepper. Bring to a boil; reduce heat, cover, and simmer until barley is tender, about 30 minutes. Add cream, cheese, peas, sage and nutmeg; cook just until heated through and cheese is completely melted. Garnish with crispy prosciutto, fresh nutmeg, or parmesan cheese.
Keep In Touch
Sign Up For Our Newsletter
Be the first to know about the latest wine releases, events, and promotions.