Crispy Mushroom Gnocchi with Truffle Cream Sauce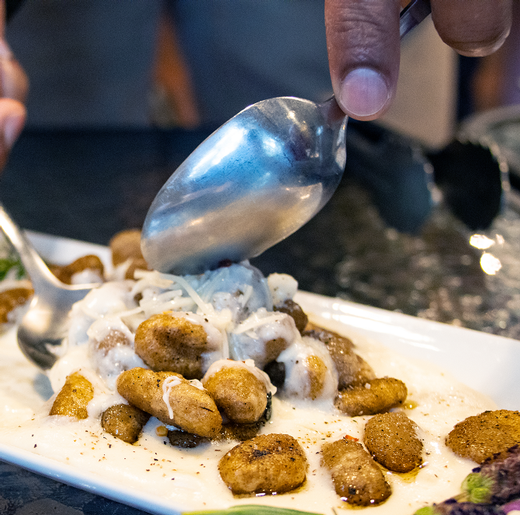 Measurements:
Imperial (US)
One of the best pieces of advice I have received regarding cooking is "if you can buy something that is as good as you can make it, buy it!" I found this very true with this elegant, quick, and tasty dish.
Ingredients
2 packages Colavita Mushroom Gnocchi
4 tbsps rendered bacon fat
5 tbsps butter, divided
1/4 cup all-purpose flour
1 quart milk
1 tsp truffle salt
1/4 tsp white pepper
1/4 tsp nutmeg
1 1/2 cups parmesan cheese, grated
Directions
In a sauce pan melt 3 tablespoons of butter and add the flour. Use a whisk to blend and cook over low heat until golden in color. Add the milk slowly, stirring constantly, and cook at low heat until thickened. Turn off the heat and add the rest of the ingredients, stirring until the cheese is completely melted and blended into the sauce.
Follow the instructions on the gnocchi package for cooking instructions and be sure not to overcook. Remove the gnocchi from the pot and set aside. In a large sauté pan heat the remaining butter and bacon rendering until it is very hot but not burning. Add gnocchi and cook until crispy on all sides.
To plate, ladle some of the truffle sauce on the plate, add the gnocchi and drizzle a bit more sauce over the top. Garnish with a bit of grated nutmeg. Be sure to enjoy with a glass of Mediterranean Vineyards Barbera.
Keep In Touch
Sign Up For Our Newsletter
Be the first to know about the latest wine releases, events, and promotions.