Cucumber Gazpacho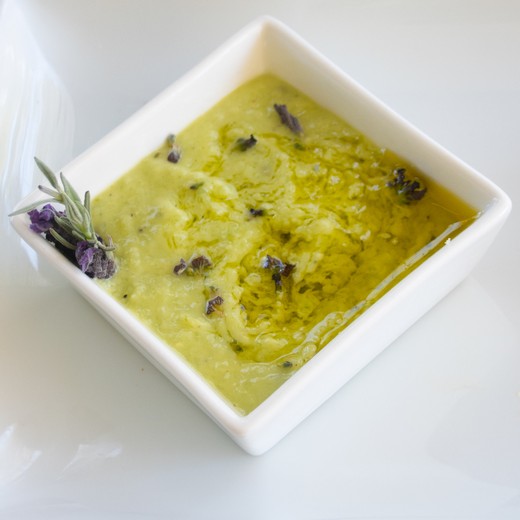 Recipe Date:
April 26, 2022
Measurements:
Imperial (US)
One of Chef Lisa's favorite recipes. Enjoy this super easy, light and delicious dish anytime you like! This pairs best with a white wine, Chef Lisa suggests Fumé Blanc or Pinot Grigio. The freshness of the cucumber comes through and calms the subtle kick from the jalapeño, while the lovely lavender buds create a beautiful aroma.
Ingredients
1 cucumber, peeled, seeded and chopped
3 cloves garlic
1 tsp green onion, chopped
1/2 tsp jalapeño, chopped
2 lavender buds
1/4 tsp coarse salt
1/4 tsp ground black pepper
1 tbsp sour cream
1/4 avocado
1/2 Juice from one lemon
1 tbsp buttery olive oil
Directions
Put all ingredients into a food processor and blend until smooth.
Garnish with a drizzle of olive oil, a sprinkling of lavender flower, lemon zest, and finely chopped cucumber. Serve with a glass of Fumé Blanc or Pinot Grigio.
Keep In Touch
Sign Up For Our Newsletter
Be the first to know about the latest wine releases, events, and promotions.