Feliz Natal Portuguese Cocktail | Wine Cocktails| Holiday Drinks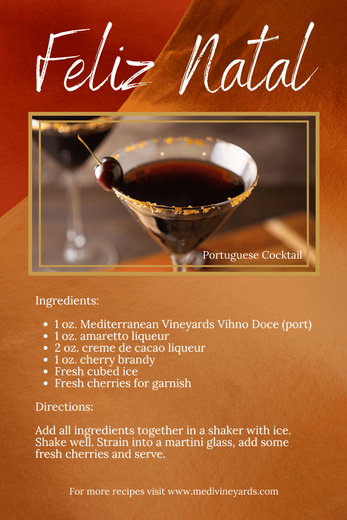 Recipe Date:
December 6, 2021
Measurements:
Imperial (US)
This cocktail, inspired by the flavors of rich, liqueur drenched, chocolate fruit cakes often consumed during the holidays, is like a dessert in a glass. It is perfect on its own, or pair it with your favorite chocolatey dessert. A great wine cocktail recipe to show off to your friends and family during winter!
Ingredients
1 oz Mediterranean Vineyards Vinho Doce (port style wine)
1 oz amaretto liqueur
2 ozs creme de cacao liqueur
1 oz cherry brandy
Cubed ice for shaking the cocktail
Fresh cherries for garnish
Directions
Add all ingredients together in a cocktail shaker with ice. Shake well. Strain into a martini glass, add a few fresh cherries as garnish, and serve.
Keep In Touch
Sign Up For Our Newsletter
Be the first to know about the latest wine releases, events, and promotions.