Holiday Sangria Recipe | Wine Cocktails| Holiday Drinks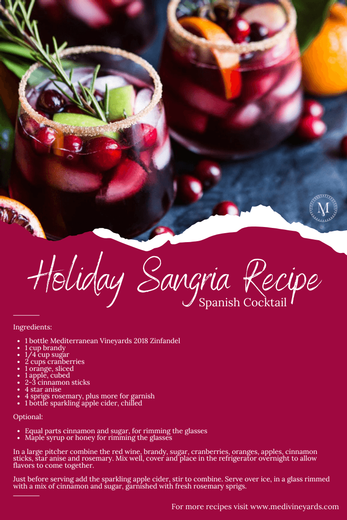 Recipe Date:
December 6, 2021
Measurements:
Imperial (US)
Sangria always benefits from some time in the refrigerator to allow the flavors to develop as the fruit and spices infuse with the wine. We recommend making this recipe a day ahead to allow for that. This wine cocktail recipe will have all your winter and holiday celebrations festive!
Ingredients
1 Bottle of Mediterranean Vineyards 2018 Zinfandel
1 cup brandy
1/4 cup sugar
2 cups cranberries
1 orange, sliced
1 apple, cubed
2-3 cinnamon sticks
4 star anise
4 sprigs of rosemary
1 bottle of sparkling apple cider
Directions
In a large pitcher combine the red wine, brandy, sugar, cranberries, oranges, apples, cinnamon sticks, star anise and rosemary. Mix well, cover and place in the refrigerator overnight to allow flavors to come together.
Just before serving add the sparkling apple cider, stir to combine. Serve over ice in a glass rimmed with a mix of cinnamon and sugar. Garnish with fresh rosemary sprigs.
Keep In Touch
Sign Up For Our Newsletter
Be the first to know about the latest wine releases, events, and promotions.