Kir Royale French Wine Cocktail | Wine Cocktails| Holiday Drinks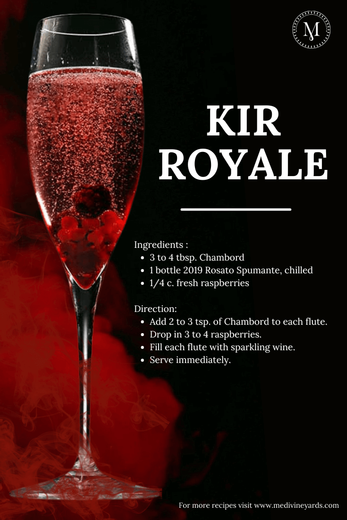 Recipe Date:
December 6, 2021
Measurements:
Imperial (US)
Kir Royale is a classic French Cocktail featuring Crème de Cassis topped with Champagne. Our Rosato Spumante is a perfect substitution for Champagne in this recipe. A perfect winter and holiday wine cocktail recipe to share with your loved ones!
Ingredients
3 to 4 tbsp. Chambord
1 bottle Rosato Spumante, chilled
1/4 cup fresh raspberries
1/4 cup fresh mint
Directions
Add 2 to 3 tsp. of Chambord to each wine flute. Add 3 to 4 raspberries to each flute. Fill each flute with sparkling wine. Garnish with fresh mint leaves and serve immediately.
Keep In Touch
Sign Up For Our Newsletter
Be the first to know about the latest wine releases, events, and promotions.