Mulled Wine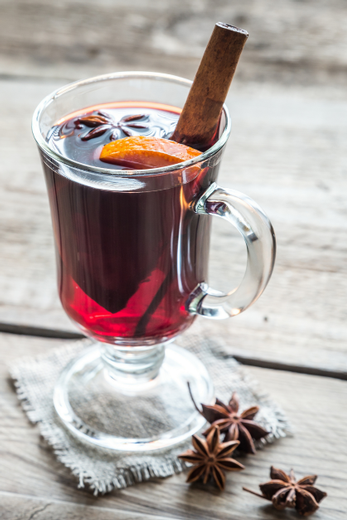 Recipe Date:
November 9, 2021
Measurements:
Imperial (US)
We love to make mulled wine during the winter! The aroma of the warmed wine, fresh orange and spices fills the room with holiday nostalgia.
Ingredients
1 Bottle Mediterranean Vineyards Zinfandel
1 Fresh orange, sliced in rounds
8 Whole cloves
2 Whole cinnamon sticks
2 Whole star anise pods
2 Whole cardamom pods
2 tbsps Honey
1/4 cup Brandy (optional)
5 Dehydrated orange slices
Directions
Combine all ingredients in a small pot, Crock Pot, or Instant Pot.
Heat to just below a simmer for at least 15 minutes and up to 3 hours, to develop flavors. Add 1-2 more tbsp of honey if a sweeter wine is desired.
Strain mulled wine, reserving orange slices for garnish if desired. Ladle into cups, and garnish with dehydrated orange slices.
Keep In Touch
Sign Up For Our Newsletter
Be the first to know about the latest wine releases, events, and promotions.