Puttanesca Pasta Salad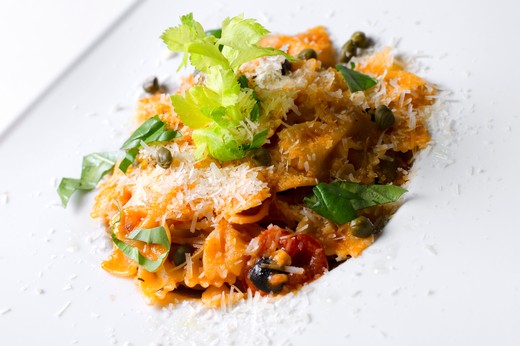 Recipe Date:
August 18, 2022
Measurements:
Imperial (US)
Puttanesca is classic dish of Italy with a colorful history. Enjoy this flavorful pasta dish as a meal or a side dish. It is great to bring on picnics and enjoy with rustic bread and olive oil for dipping. Don't forget the Mediterranean Vineyards Zinfandel to enjoy with this delicious meal.
Ingredients
12 ozs Farfalle pasta
1/4 cup Olive oil
2 tbsps Red wine vinegar
6 Anchovies
1 Red onion (diced)
6 Garlic cloves
1 cup Sundried tomatoes, (chopped into pieces)
1/2 cup Capers
14 ozs Artichoke hearts (quartered)
1/4 cup Fresh basil
Red pepper flakes
Salt and pepper
Grated Parmesan to garnish
Directions
Cook the pasta according to directions on the box, set aside to cool.
In a blender or food processor add vinegar, anchovies, oregano, 1 tablespoon red onion, garlic, and 1 tablespoon sundried tomatoes. Blend until smooth, then slowly add olive oil through the top, while the food processor is still running, until all is blended. Salt and pepper to taste.
In a large bowl combine the pasta with the dressing, capers, olives, sundried tomatoes, artichokes, and red pepper flakes. Garnish with grated Parmesan cheese to serve and pair with a glass of Mediterranean Vineyards Zinfandel.
Keep In Touch
Sign Up For Our Newsletter
Be the first to know about the latest wine releases, events, and promotions.