Pasta e Fagioli with Italian Sausage | Sips and Soups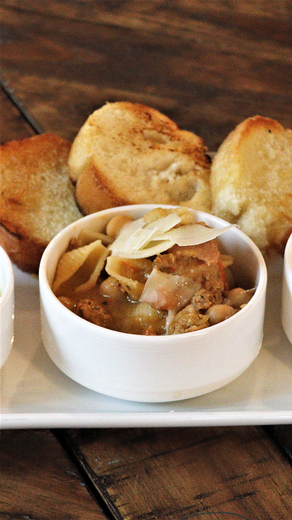 Recipe Date:
January 14, 2022
Measurements:
Imperial (US)
This relatively easy soup has everything you need. Pasta e Fagioli with Italian Sausage has enough meat, beans, and vegetables to be a complete meal. Serve with a loaf of warm French bread and a glass of Mediterranean Vineyards Nebbiolo for the perfect lunch or dinner.
Ingredients
1/4 cup olive oil
3 slices bacon, chopped into pieces
1 1/2 cups chopped onion
1 tbsp garlic minced
1/3 cup celery
1/2 cup carrots, grated
1/2 tsp dried oregano
1/4 tsp red pepper flakes
1 lb Italian sausage (spicy)
1 cup fresh tomato, diced
1 tbsp fresh Italian parsley
1/4 tsp sage
7 cups chicken broth
3 cans of garbanzo beans
1 1/2 cups pasta, small shells
Salt and Pepper to taste
Grated Parmesan or Romano for garnish
Directions
In a large stock pot heat olive oil and butter over medium heat, sauté onions and bacon. When bacon is crispy, add garlic, celery, carrots, basil and oregano, and cook for 2 or 3 minutes. Add sausage, using a wooden spoon to crumble. Cook for 8-10 minutes, until sausage is cooked. Add two cans of beans, tomatoes, parsley, sage and four cups of chicken broth. Bring to a boil then reduce heat and let simmer for 45 minutes.
In a blender, add one cup of soup, two cups of broth, and the remaining one can of beans. Puree until smooth then return to pot with rest of soup and heat through. Add salt and pepper to taste.
If serving immediately, add pasta to soup and cook for 10 to 12 more minutes until pasta is soft. Otherwise, cook the pasta until tender and add to soup five minutes before you serve it. Garnish with Parmesan or Romano cheese to serve. Pair with Mediterranean Vineyards 2018 Nebbiolo.
Note: Pasta will soak up all the juices over time, so if pasta is added ahead of time the soup will be very thick.
Keep In Touch
Sign Up For Our Newsletter
Be the first to know about the latest wine releases, events, and promotions.