Peach Lemon and Ginger Sangria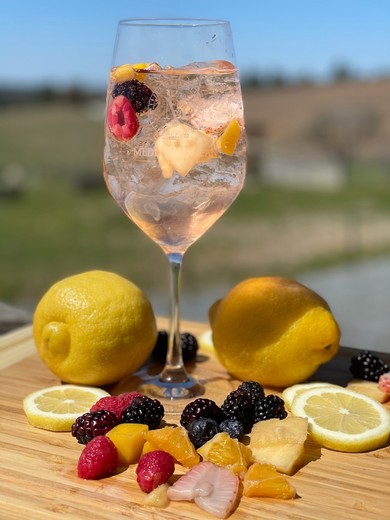 Recipe Date:
September 1, 2021
Measurements:
Imperial (US)
Once you make this easy cocktail it will become one of your summertime favorites. Peach, Lemon and Ginger Sangria is the perfect easy cocktail recipe for all of you summer occasions. Fresh peaches, a hint of citrus, and a touch of ginger, make this bubbly goodness.
Ingredients
1 bottle Pinot Grigio
1/2 bottle Rosato Spumante
2 fresh peaches, peeled and sliced
1 lemon, sliced thin
2 tbsps fresh ginger, cut into ¼ inch squares
1 tbsp mint
1/4 cup simple syrup
Directions
Put all the ingredients except for the Rosato Spumante in a carafe or pitcher and stir with a long spoon. Let sit for 15 minutes or up to 2 days in the refrigerator.
To serve, fill a glass with a generous amount of ice. Pour Sangria over the ice filling the glass about two thirds of the way to the top. Top with Rosato Spumante.
Enjoy with friends or by yourself after a long day.
Keep In Touch
Sign Up For Our Newsletter
Be the first to know about the latest wine releases, events, and promotions.