Petite Croque Monsieur Ham and Cheese Tarts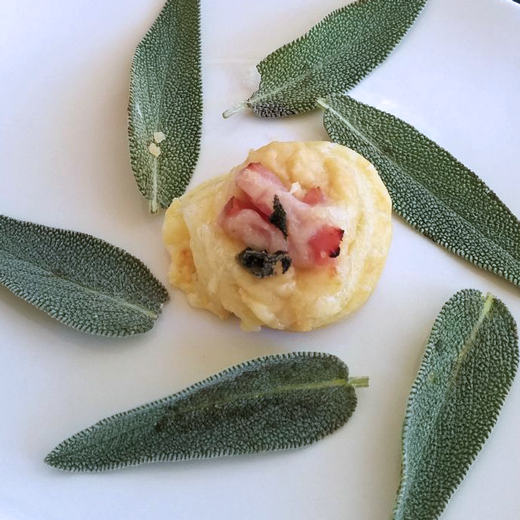 Recipe Date:
November 8, 2022
Measurements:
Imperial (US)
The beauty of this delicious appetizer is you can make it in advance and reheat and garnish with thyme when your guests arrive. They will think you spent hours preparing these decadent tarts.
Ingredients
2 tbsps butter
1/4 cup flour
1/4 tsp nutmeg
1 1/2 cups half and half
1/3 cup grated Parmesan cheese
1/4 cup Dijon mustard
Pinch cayenne pepper
Salt and pepper to taste
1 package puff pastry, thawed according to package directions
12 - 16 thin slices of ham
1 - 1 1/2 cups shredded Gruyere Cheese
Fresh thyme sprigs, for garnish
1 egg, slightly beaten with a splash of water
Directions
Preheat oven to 425 ˚F.
In a heavy bottom saucepan, melt the butter over medium heat. Add the flour and stir constantly until the mixture is a nice golden color. Pour in the half and half slowing whisk the mixture until it is blended and smooth. Keep on medium heat, whisking constantly, for about 5 minutes until the sauce thickens. Remove from heat and stir in Parmesan, Dijon, nutmeg, cayenne and salt and pepper to taste. This is your béchamel sauce, cover it and set it aside until needed.
Cut the pastry into 2-inch squares or desired shape. Use a sharp knife to score a smaller square about 1/8 of an inch from the edge of each piece. Be careful not to cut all the way through.
To build the tarts, put about a tablespoon of béchamel in the center of each pastry square and spread it just to the edge of the inside square. Layer each inside square with ham and Gruyere cheese. Bake at 425 ˚F on a baking sheet lined with parchment paper for 15 minutes or until golden and fluffy.
Serve with glasses of Mediterranean Vineyards Fumé Blanc.
Keep In Touch
Sign Up For Our Newsletter
Be the first to know about the latest wine releases, events, and promotions.