Summer Rosé Sangria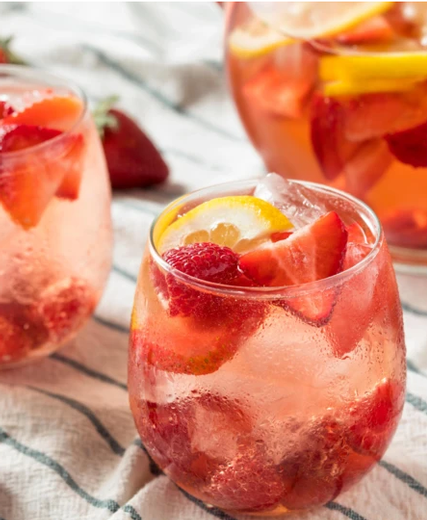 Recipe Date:
August 30, 2021
Measurements:
Imperial (US)
Sangria can be made with any of your favorite seasonal fruits, or frozen fruit. It can also be prepared in advance and refrigerated for days prior to serving. The flavors actually get better over time!
Ingredients
1 bottle Grenache Rose' or Pinot Grigio
2 cups fresh sliced fruit or frozen fruit, choose your favorites!
2 shots grand marnier
1 tsp dried or 2 teaspoons fresh lavender (optional)
1 bottle Rosato Spumante
ice for serving
Directions
Combine one bottle of Grenache Rosé or Pinot Grigio with two cups of peak-summer sliced fresh fruit like strawberries, peaches, plums or raspberries in a pitcher or large jar.
Add two shots of Grand Marnier, and a teaspoon of dried lavender or two teaspoons of fresh lavender.

Refrigerate for a few hours before serving. Serve over ice and top with a splash of our Rosato Spumante.
Notes:
* Sangria is so versatile you can use practically any fruit you want to.
* Don't like lavender? You can also experiment with adding fresh mint or other herbs.
* Don't have Grand Marnier? Leave it out or substitute with something else like Cointreau or Triple Sec.
* Try substituting frozen grapes for ice cubes!
Keep In Touch
Sign Up For Our Newsletter
Be the first to know about the latest wine releases, events, and promotions.