Tomato, Basil & Mozzarella Flatbread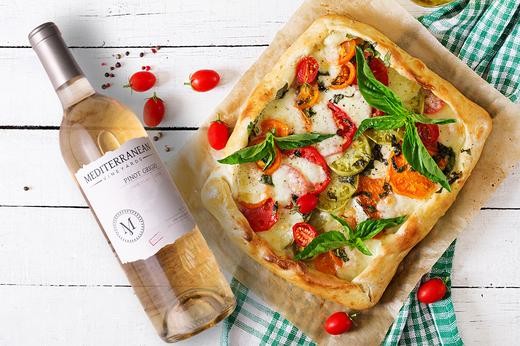 Recipe Date:
July 15, 2021
Measurements:
Imperial (US)
This recipe is simple and easy. It can be used as a beautiful appetizer for guests or a delicious vegetarian dish for a weeknight meal. The best part though, it pairs magically with a cool glass of Pinot Grigio or Sauvignon Blanc right out of the fridge. The subtleties of the mozzarella, the herbaceous delights of basil and oregano, and the light acid of softly cooked fresh tomatoes are simply perfect with the second most popular white wine in America. Pinot Grigio is a dry white wine that has a punchy acidity with flavors of lemons, limes, green apples and honeysuckle. Pinot Grigio has its detractors amongst the snobbiest of wine snobs. Some say the wine is too simple or uninteresting, but this mostly because Pinot Grigio is so popular and its popularity has resulted in some pretty terrible mass-produced bottles. It's usually always best to avoid mass-produced wine, but don't let that stop you from enjoying what is truly a wonderful wine!
Ingredients
1 Package flatbread or Pizza dough – You can purchase these at the grocery store or make your own from scratch. Tip: Naan works great!
Fresh tomatoes sliced – Use a variety of tomatoes for flavor, color, and size
2 tbsps olive oil
1 tsp minced garlic
1/4 tsp salt
1/4 tsp pepper
6 ozs fresh mozzarella – sliced
1/4 cup fresh basil leaves
1/2 red pepper flakes
1/4 tsp oregano
1 tbsp balsamic vinegar
Directions
Preheat the oven to 400 degrees F.
Combine the minced garlic and olive oil, then brush each flatbread with the mixture (if using fresh dough, pre-bake or par cook the dough 5-6 minutes before adding toppings).
Next, top each with slices of fresh tomato, fresh mozzarella, and basil leaves.
Season with salt, pepper, red pepper flakes, and dried oregano.
Place onto a baking sheet lined with parchment paper and bake for about 6-8 minutes or until the mozzarella has melted and the tomatoes have softened.
Recommended but not necessary, drizzle with balsamic vinegar to give it the full Caprese treatment.
Serve hot with a glass of Pinot Grigio.
Keep In Touch
Sign Up For Our Newsletter
Be the first to know about the latest wine releases, events, and promotions.