Vichyssoise | Sips and Soups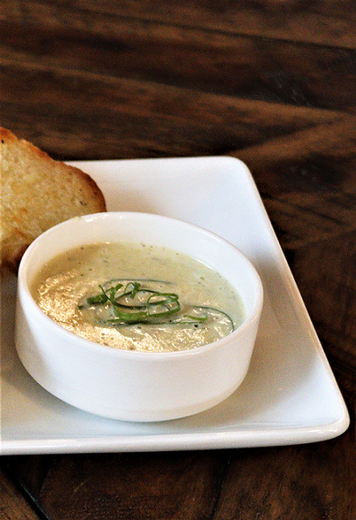 Recipe Date:
January 14, 2022
Measurements:
Imperial (US)
This classic soup is easier to make than to spell or say. Vichyssoise is a creamy and smooth soup made from potatoes and leeks. Traditionally served chilled but can be served warm if the season calls for it. Serve a first course to an elegant meal or with a salad for a nice luncheon.
Ingredients
4 tbsps butter
3 onions, diced
4 1/2 cups leeks, cleaned and sliced
2 lbs Yukon gold potatoes, peeled and chopped
3 cups chicken stock
3 cups heavy cream
1/4 tsp dried thyme
1/2 tsp marjoram
1 tsp white pepper
1 tsp ground pepper
1 tsp nutmeg
1 pinch of cayenne
2 tsps Kosher salt, more if needed
chopped chives are a garnish
Directions
In a large stock pot, melt butter. Sauté the onions until they are translucent. Add the leeks and cook for about 10 minutes more. Add broth and potatoes. Cook until potatoes are tender, about 15 minutes. Add the rest of the ingredients, stir, and remove from heat. Puree until smooth using an immersion blender or traditional blender. Return to low heat and cook for 15 minutes. Garnish with chopped chives to serve.
Can be served cold or hot.
Enjoy with a bottle of Mediterranean Vineyards Chardonnay
Keep In Touch
Sign Up For Our Newsletter
Be the first to know about the latest wine releases, events, and promotions.