Wild Boar Bolognese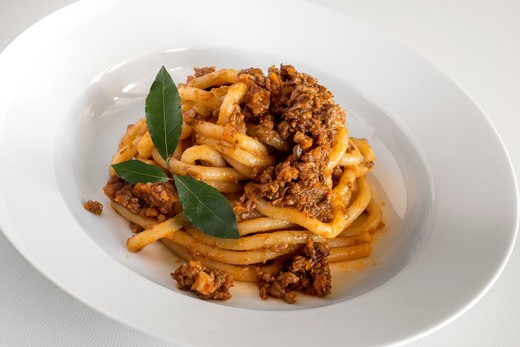 Recipe Date:
February 14, 2023
Measurements:
Imperial (US)
What's the difference between ragu and bolognese? Usually, ragu sauces are served with spaghetti or a thin pasta, while bolognese is served with wider noodles like lasagna, tagliatelle, or pappardelle. Ragu is usually made with red wine while bolognese is made with white wine, but I like to use red in both. The one thing they both definitely have in common is the longer you cook them, the better they taste. – Chef Lisa Scott
Ingredients
1/2 lb wild boar shoulder or leg, cut into four pieces
1 rosemary sprig
4 cloves garlic
1 stock celery, quartered
1 carrot, quartered
1 yellow onion, quartered
2 bay leaves
2 tsps juniper berries
2 cups Mediterranean Vineyards Charbono
3 tbsps olive oil
1 lb ground pork
1 yellow onion, diced
1 stock celery, finely chopped
1 carrot, finely chopped
4 cloves garlic, finely chopped
2 cups canned tomatoes, with their liquid
2 cups chicken stock
Salt and pepper to taste
Directions
The night before making the bolognese, place cut boar in a large bowl. In a separate bowl, mix the rest of the ingredients of the marinade together and pour over the meat. Cover tight and refrigerate overnight.
Drain the meat in a strainer and discard the herbs and vegetables, reserving the wine. Cut the boar into 1–2-inch cubes. In a Dutch oven, heat the oil over medium high heat and add the wild boar. Brown the meat on all sides, then remove. In the same pan, sauté onions, carrots, and celery until onions are translucent, about 3-4 minutes. Add the ground pork, using a wooden spoon to crumble and cook until no longer pink. Add the wild boar back to the pan followed by the wine. Cook for 10-15 minutes until wine is almost all the way absorbed. Add the tomatoes, breaking them up with a spoon. Add one cup of water, reduce heat to very low. Cook, partly covered, for one hour.
Add the chicken stock and continue to simmer, stirring occasionally, until the boar starts to fall apart. This will take 1.5 to 2.5 hours. Shred the boar pieces in the sauce. Serve over pappardelle or your favorite pasta. Pair with Mediterranean Vineyards Charbono.
Keep In Touch
Sign Up For Our Newsletter
Be the first to know about the latest wine releases, events, and promotions.