October 26, 2021 | Winemaking | Team Member
End of Harvest
Mediterranean Vineyards Post-Harvest
There are five defined stages to winemaking: growing and harvesting the grapes, crushing/destemming, fermentation and pressing, clarification and aging, and finally bottling. Winemaker Taylor and his team have now checked off some of those boxes for vintage 2021: the grapes have been harvested, the crushing/destemming is done, and wines have finished fermentation.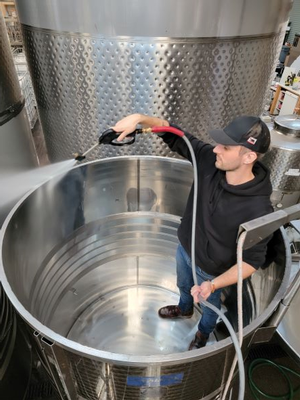 When we asked Taylor what interesting, must- know fact did he wanted to share post-harvest, he said, "I let the Nebbiolo have an extended maceration for 14 days to soften the young wine overall." Extended maceration is when the skins and seeds, called pomace, are left in contact with the wine for a longer period of time. The goal is to increase color, flavor, and tannin structure in the wine. Nebbiolo is a bold grape, it takes a trained nose and palate to identify this in such a vibrant young wine, but Taylor knew just what to do and is familiar with the challenges of Nebbiolo, setting up this wine for a future of delicious success.
Now the team is on to the next step in the young wines' life, pressing! The winemaking team loads the wine that is finished fermenting into the air press to gently squeeze the juice from the remaining pomace. This action is to capture all the nuances in the pomace, with controlled pressure, so as not to break the seeds and release unwanted tannins. After pressing, the wine is sent to barrel or stainless-steel tank, depending on the varietal, and the pomace is discarded.
After all the young wines are where they need to be for the cold winter, the whole team goes into cleaning mode. All tanks and other essential harvest items are cleaned, sanitized, and put away. Some team members are more helpful than others. Sebastian, one of our cellar crew member's dogs, is helping by playing a game of fetch with a barrel bung.
Comments
Commenting has been turned off.
Keep In Touch
Sign Up For Our Newsletter
Be the first to know about the latest wine releases, events, and promotions.