November 12, 2021 | Food | Team Member
Getting Cozy with Mulled Wine
The temps are starting to drop here in the foothills, on their way to downright chilly. I think most would agree that a crisp, refreshing, chilled white wine just isn't what we're looking for on a cold winter's day. A big, bold red wine is more suitable for this time of year. As much as we all enjoy drinking wine, try putting a twist on it for the holidays!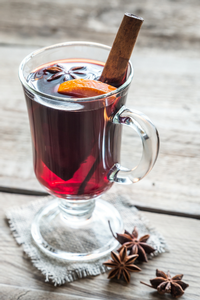 Can't you just see this cozy scene - you're relaxing by the fire, wrapped in a blanket, binge-watching your favorite Netflix shows, and you want something to warm you up. Enter Mulled Wine. It is not just for Dickens' lovers anymore! Mulled Wine is essentially warmed, spiced wine, often revved up with some type of spirits, brandy or rum. Our Old Vine Zinfandel with its dark fruit mixed with the mulling spices is the perfect blend!
A little history about mulled wine. Where did it come from and why? Mulled wine originated in the 2nd century and was created by the Romans who would heat wine to defend their bodies against the cold winter. Towards to the end of the 1800's, it became popular all over Europe. In Germany and Belgium it is known as glühwein and it's their preferred holiday beverage to enjoy with family and friends.
Are you heading to the snow this season? Pack up your Crock Pot, Instant Pot, or boiling pot and needed spices. Follow the recipe, below, or view it on our recipe page, for ingredients and amounts. It can be ready in as little at 15 minutes but is better if left on low simmer for more time. The longer it simmers, the better the integration of the spices into the wine. Plus, it will fill the air with a festive aroma that will ward away any winter chill. We hope you enjoy it as much as we do!
MULLED WINE RECIPE
Ingredients
One bottle Zinfandel
One orange, sliced in rounds
8 whole cloves
2 cinnamon sticks
2 star anise pods
2 whole cardamom pods
2-4 tablespoons honey (try 2 tbsp first, and if a sweeter wine is desired, add 1 tbsp at a time)
¼ cup brandy (optional)
Dehydrated orange slices
Preparation
Combine all ingredients in a small pot, Crock Pot, or Instant Pot.
Heat to just below a simmer for at least 15 minutes and up to 3 hours, to develop flavors.
Strain mulled wine, reserving orange slices for garnish if desired. Ladle into cups, and garnish with dehydrated orange slices.
Serves five people.
Comments
Commenting has been turned off.
Keep In Touch
Sign Up For Our Newsletter
Be the first to know about the latest wine releases, events, and promotions.