June 28, 2022 | Winemaking | Team Member
Nebbiolo: Italy's Noble Grape & Discreet Heartthrob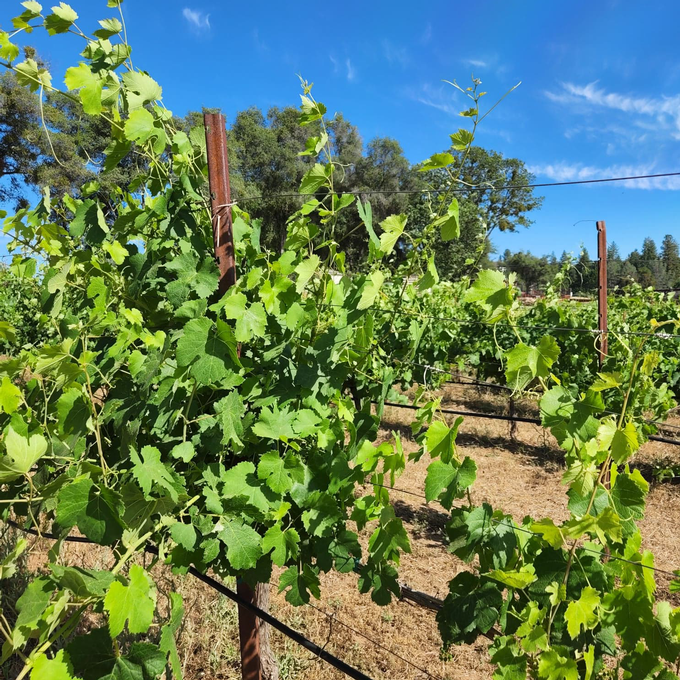 Nebbiolo is considered Italy's noble grape and a cult favorite amongst wine connoisseurs. Our Nebbiolo vines at Mediterranean Estate were planted in 2006 by the previous owners, and we're so happy that they did! We recently released our 2019 vintage, the third vintage of Nebbiolo from the estate. It shows winemaker Taylor's move toward a more traditional Italian style with its deceptively light hue. It also shows Taylor's deft ability to manage tannins and produce classic styles of wine that are drinkable while young, because who really wants to wait 10 years?
The Nebbiolo grape is believed to have thrived in the Piedmont hills of Northern Italy since at least the 1200's, but possibly originated in the area much earlier. It is known for budding early and having a long hang time before harvest. As a result, it is given the most favored vineyard sites to help ensure it reaches full ripeness by the end of October. This is true at the Mediterranean Estate as well, where it is often the first vine to bud and the last to be harvested, and it is planted at the highest vineyard location. This noble grape of Italy is used to produce the famously age worthy wines Barolo and Barbaresco along with other traditional wines from the region. It is often considered a fickle grape, a challenge to grow even in perfectly suited terroir.
Nebbiolo is known for producing powerful, full-bodied, and mercilessly tannic (grippy) wines—all while looking as pale as Pinot Noir! It is known for having a profile with notes of rose, cherry, leather, tar, clay pot, and anise.
The name Nebbiolo derives from nebbia, the Italian word for "fog." This is likely from the white, powder-like natural bloom on the grapes that appears during harvest season. Or, from the fact that the best Nebbiolo sites are located above the fog that collects in the valley.
Even though Nebbiolo only makes up about 8% of all the grapes grown in Piedmont, more of the grape is grown there than anywhere else in the world, making it a rare find.
Much like Pinot Noir, Nebbiolo is an incredibly fussy variety to grow, and can struggle to ripen fully. It seems to prefer specific hillside locations and clay- and silt-based soils. Also, like Pinot Noir, Nebbiolo is considered to be a "terroir-expressive" variety, in that it picks up more of the earth, soil, and climate characteristics versus other grapes, which means it can taste wildly different depending on where it's grown. This makes it a varietal that is not for the faint of heart to grow.
These are the characteristics that intrigue winemakers and wine lovers and speak to why Nebbiolo is a cult-favorite wine and one we are proud to grow and produce at the Mediterranean Estate Vineyard.
Comments
Commenting has been turned off.
Keep In Touch
Sign Up For Our Newsletter
Be the first to know about the latest wine releases, events, and promotions.